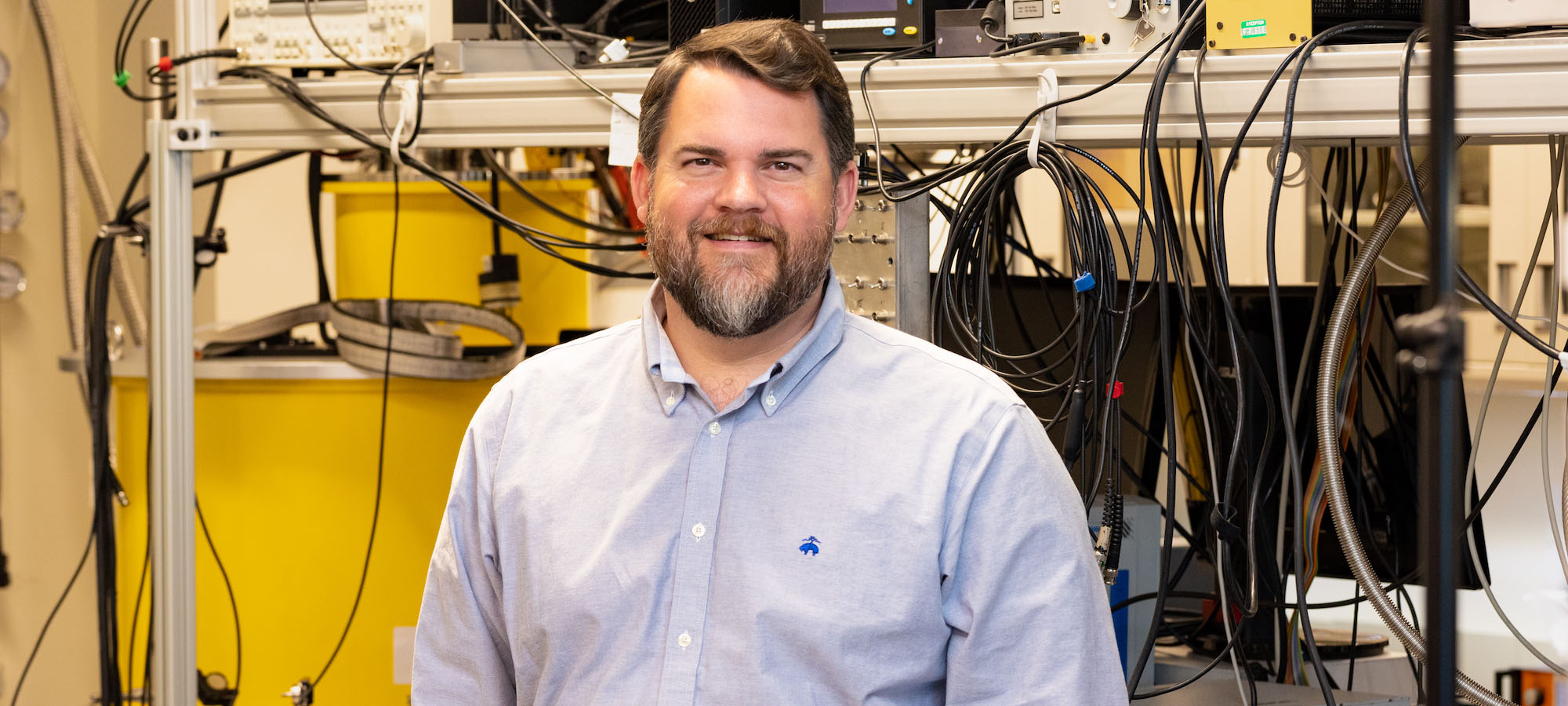 No Small Feat
What do secure communication, semiconductor manufacturing and clean air have in common? They all benefit from Hugh Churchill's work in nanoscale materials and quantum technologies, which has attracted more than $7 million in external funding for his lab and – with the help of colleagues – about $20 million to the University of Arkansas overall.
Churchill, an associate professor of physics, focuses on the small things in life – particularly nanoscale materials and devices controlled by quantum mechanics. Unlike classical physics, where objects and forces behave in accordance with everyday human experience, quantum mechanics defines unusual behaviors observed in atoms and sub-atomic particles. Electronic devices that are engineered to be sufficiently small, cold and fast can also be governed by the rules of quantum mechanics, and quantum technologies seek to harness these unusual properties for societal benefit, which is where Churchill and fellow U of A faculty members come in.
While nanoscopic in size, these particles can have an immense effect on technology, because everything from smart phones to health care imaging devices incorporates quantum mechanics. Even if you don't completely understand the physics behind it, you can probably bet that they've been integrated into your daily life.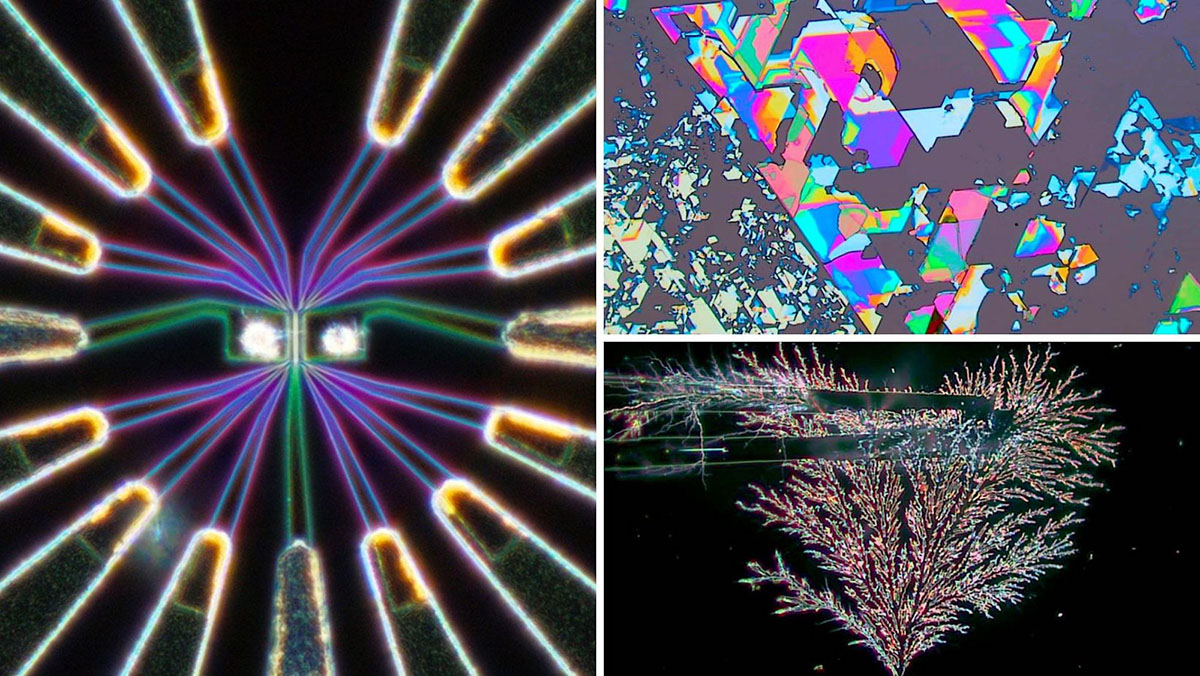 Man on a Mission
Churchill grew up in Conway, Arkansas, and graduated from Oberlin College with a Bachelor of Music and Bachelor of Arts in physics and mathematics. He went on to earn a doctorate in physics from Harvard University before being named a Pappalardo Fellow in Physics at the Massachusetts Institute of Technology. Along the way, he was mentored by Greg Salamo, Distinguished Professor of physics at the University of Arkansas, who introduced him to materials science, an interdisciplinary field that, at the U of A, is focused on discovering and researching new semiconductor materials.
---
Did you know? Hugh Churchill also plays the tuba. He says his musical training has influenced his research because it really teaches the value of diligence.
---
Drawn to work with semiconductor devices that incorporated quantum behavior, Churchill joined the U of A faculty in 2015. Since then, he has made a name for himself – both at the university and in national circles – for his work involving quantum physics.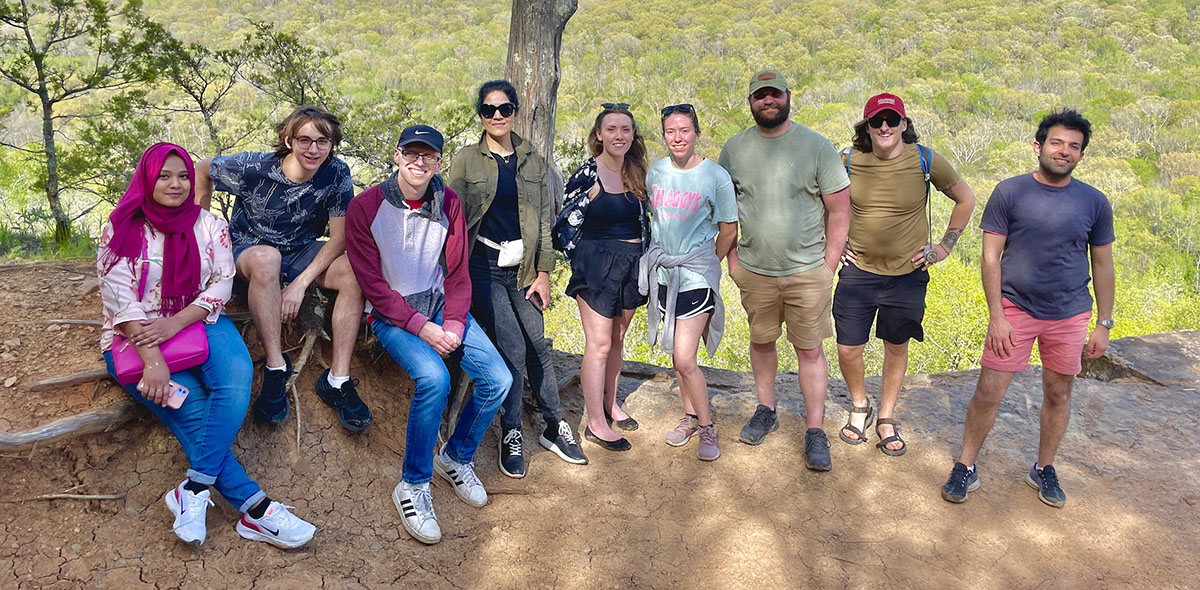 "My professional mission was to come back to my home state to improve the scientific research and education in Arkansas," he said, noting that he frequently visits Arkansas schools to talk to students and explain what he does.
---
"My professional mission was to come back to my home state to improve the scientific research and education in Arkansas."
---
His outreach in the state doesn't stop there, though. Churchill is involved in a collaboration between the U of A, the University of Arkansas at Pine Bluff and the University of Arkansas at Little Rock to establish the first graduate program in physical sciences at UAPB. As UAPB leads the development of the curriculum, Churchill and his U of A colleague Shui-Qing "Fisher" Yu, Professor of Electrical Engineering, will assist on the research side by adding a quantum element to the work they're already doing. He explains that the U of A will fabricate photonic devices at the Fayetteville campus and then send them to Pine Bluff for testing to characterize their performance. The collaboration is supported by a $5 million grant from the National Science Foundation.
---
In physics, "characterizing" something means measuring the properties of it.
---
Research Frontiers
In the field of quantum computing, researchers are constantly looking for better components to work with and testing their durability in harsh environments. Two projects Churchill is affiliated with will address both.
The Center for Manipulation of Atomic Ordering for Manufacturing Semiconductors, the first Energy Frontier Research Center in Arkansas led by professor Shui-Qing "Fisher" Yu, will be dedicated to investigating the formation of atomic orders in semiconductor alloys and measuring their effectiveness at very low temperatures.
Churchill says one big application of their research is the potential for low-cost manufacturing of semiconductors with capabilities that go beyond what silicon, the most commonly used semiconductor, can do. Since semiconductors are the "brains" of electronics, this will effectively expand the brain power of many devices and do so in a less expensive way – a major accomplishment technologically.
"The big challenge for testing quantum devices is how long it takes to make the devices," Churchill explained. "Then, when you have the devices available for testing, sometimes what you're testing doesn't work, and you have to go back and make changes."
To address this issue, the MonArk NSF Quantum Foundry was created, thanks to a $20 million gift from the National Science Foundation. The foundry is a collaboration between the U of A and Montana State University and will support the study of 2-D materials by removing the bottlenecks commonly found in the creation of quantum devices that are being tested.
---
Additional U of A team members of the MonArk NSF Quantum Foundry include Salvador Barraza-Lopez, Laurent Bellaiche, Julio Gea-Banacloche, Peter Gea, Josh Goss, Jin Hu, Dharmraj Kotekar-Patil, Khoa Luu, Bothina Manasreh, Hiro Nakamura, Tamara Snyder, Fisher Yu and Greg Salamo, Churchill's former mentor.
---
The foundry will automate this process wherever possible, utilizing an assembly line of robots and artificial intelligence to produce the 2-D materials. Churchill, who is one of two associate directors of the foundry, says the automation will accelerate the pace by 10 times or more and satisfy the needs of researchers who are partnering with the university on this research. The foundry will also serve to the greater community, which can order items to be produced in the lab. Training and resources will be available for students, and professional development will be offered for technical workers to help prepare a diverse, next-generation STEM workforce trained in quantum technologies.
"A big part of our effort is that we hope to become a national resource that researchers from all over can turn to to have materials and devices made for them," he said. "This will help accelerate progress in our entire research community and help everybody go faster."
---
Like many people, Churchill wanted to help out during the pandemic. So, he teamed up with a colleague to test a homemade air purifier.
---
Small Towns, Big Dreams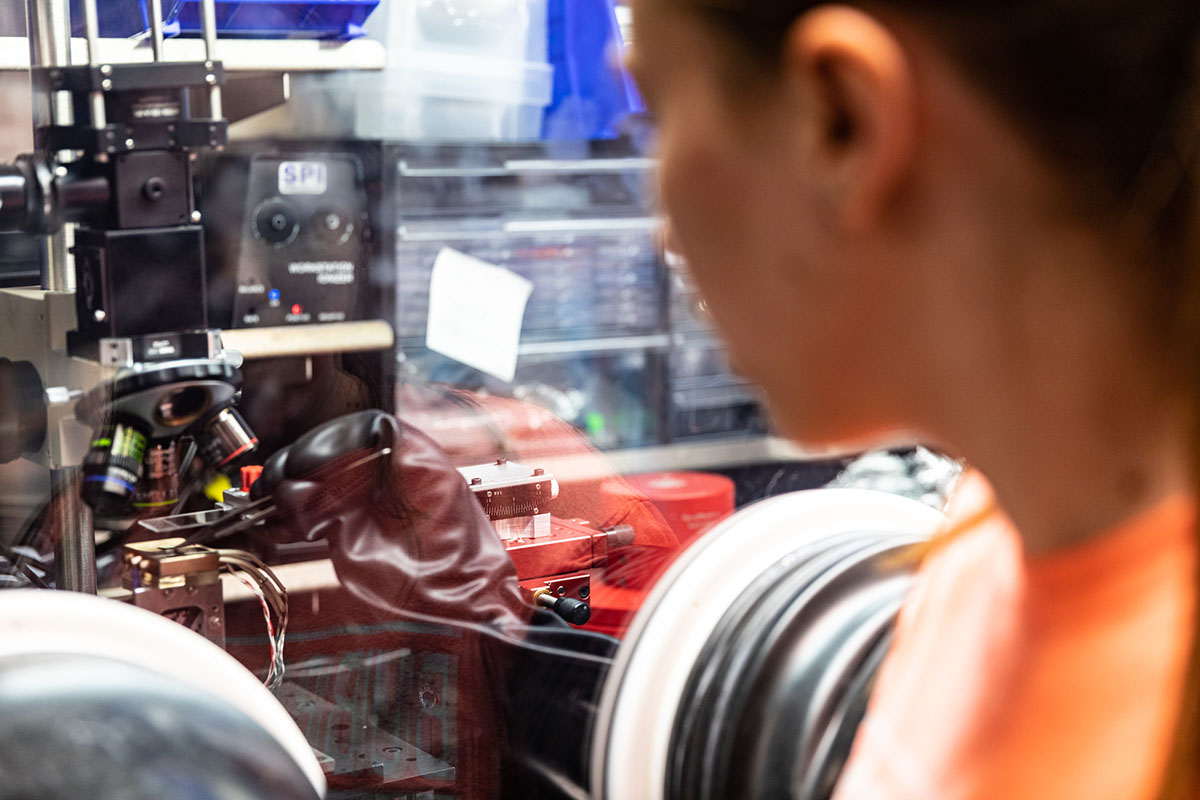 Whether he's working with fellow Arkansans, representing the university on a national level or mentoring students from around the world, Churchill has earned the admiration of students and academics alike.
Katie Welch and Brycelynn Bailey are two graduate students who work in Churchill's lab and assist with his research. They're also both from small towns in Arkansas and find it thrilling that they can pursue this type of work in their home state.
Welch, who is from Pearcy, has a bachelor's degree in physics from Hendrix College and is building terahertz antennae to characterize the utilization of black phosphorus. The results of these characterizations will be used to create new and novel devices.
"I love to learn about the world around me," she says, noting that Churchill's lab helps satisfy her craving for new knowledge. "When I was young, I thought lab work was a myth – the stuff of fairytales."
Similarly, Bailey – who is from Smackover – has always wanted to work in a lab. She hopes to work in a national laboratory after graduation, and she is drawn to research and development of new materials and electronics.
Her current job in Churchill's lab is to run the dilution refrigerator, which allows the researchers to test systems at temperatures close to absolute zero. Bailey measures the currents and voltages in devices at low temperatures, adjusts the magnetic field in play and measures the differences. She earned her bachelor's degree from Arkansas Tech University before coming to the U of A.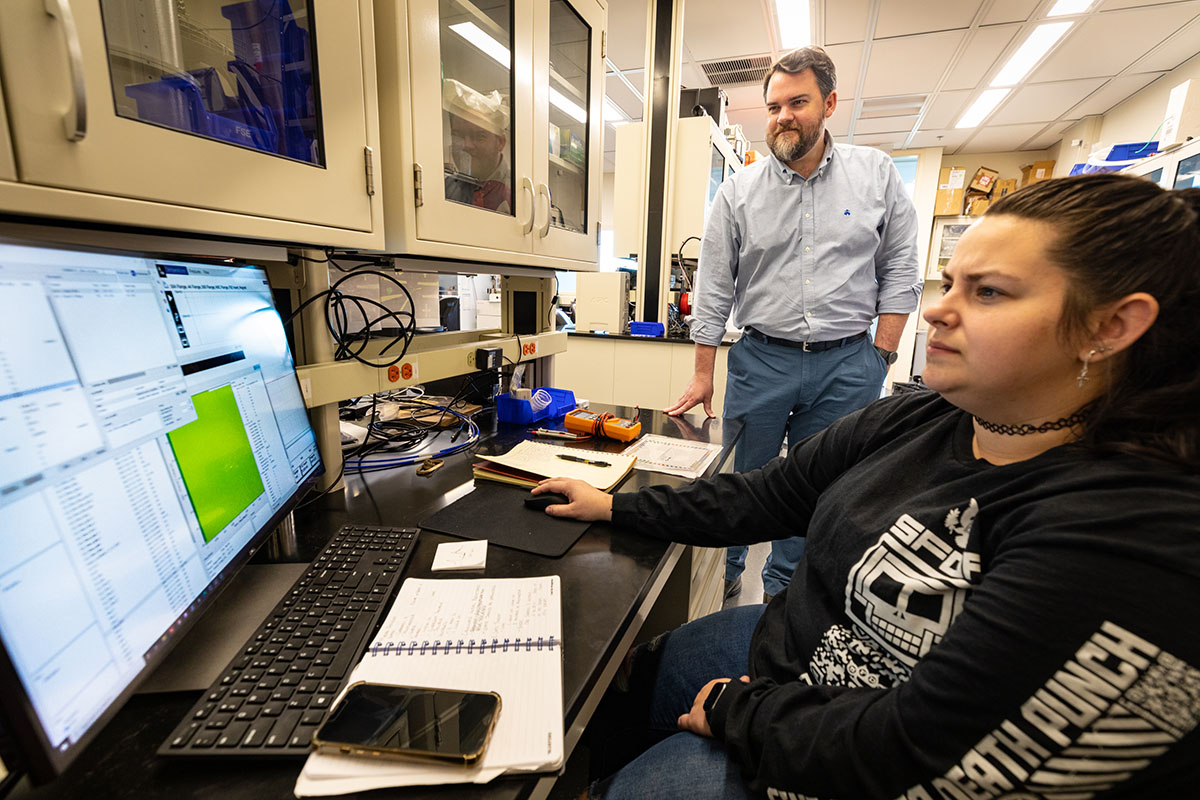 ---
Both Katie Welch and Brycelynn Bailey were introduced to research at the U of A through the National Science Foundation's Research Experiences for Undergraduates (REU) Sites program.
---
Both students praise Churchill's ability to explain complicated concepts, ensure a welcoming, productive environment and advocate for students who are struggling.
"He's incredible," Welch says. "He's good about giving you direction and then letting you figure it out from there."
Bailey agrees: "Dr. Churchill is probably one of the greatest humans I've ever met."