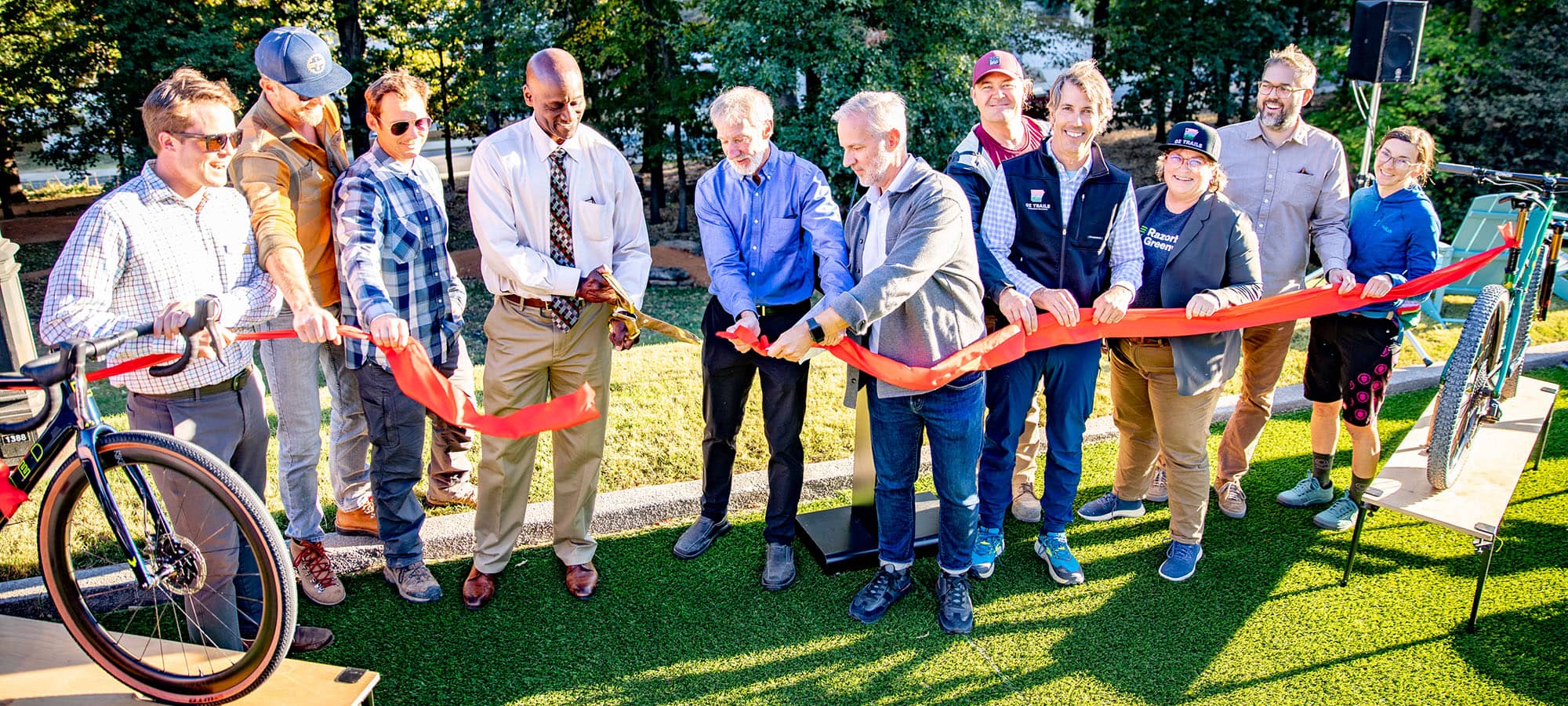 Trail Blazers
When Claire Meara first came to Northwest Arkansas from her hometown in Missouri, she quickly learned that mountain biking was a popular activity among her peers. The only problem? She wasn't too interested in trying it herself.
"I'm normally a thrill seeker," she says. "But for some reason, going downhill really fast was really scary to me."
As a student at the University of Arkansas, though, her eyes were opened – and her curiosity piqued – thanks to the trail system on campus. Seeing the accessibility of it – and how it offered opportunities for biking enthusiasts of all levels – was enough to convince her to give it a try.
Now, "I bike all the time," she says.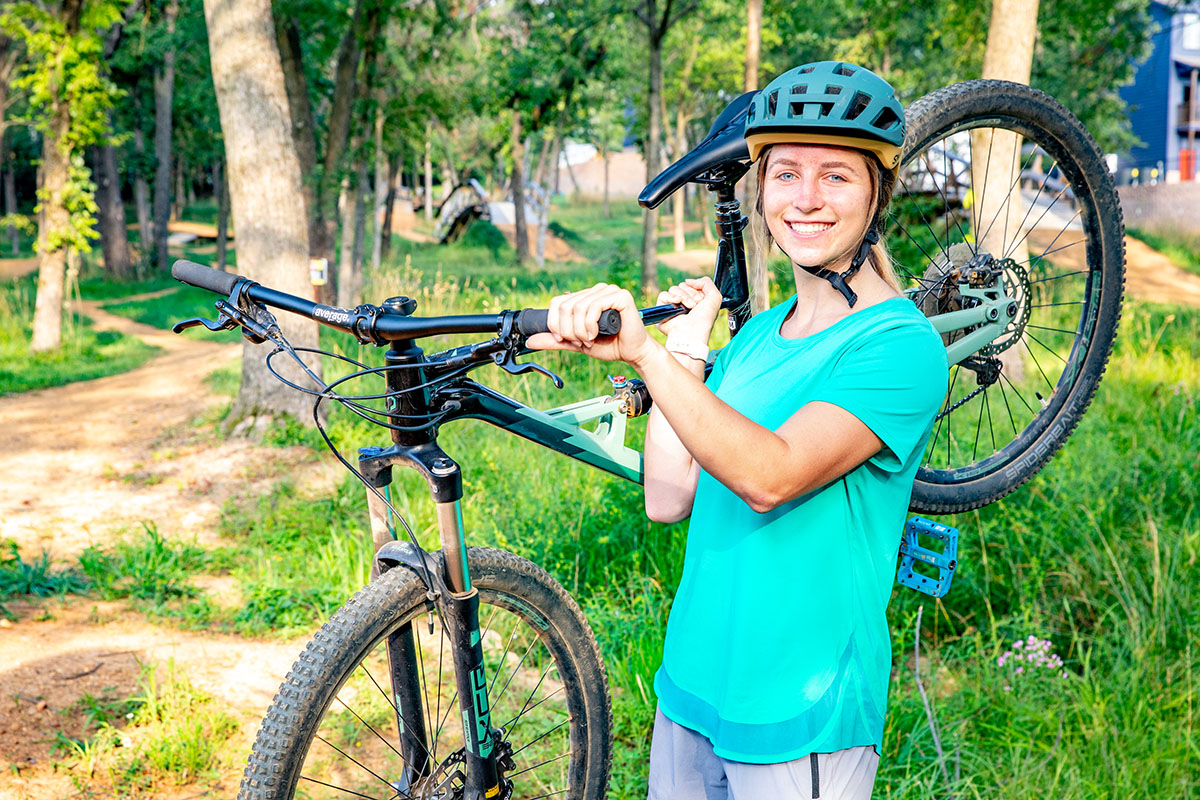 Meara is one of many students who take the scenic route to, from and through campus by utilizing the Fayetteville Traverse loop, an 18-mile nature trail that weaves its way through the core of campus, connects to existing community trails and creates an opportunity for students, faculty and staff to mix and match commuting with recreation.
Eric Boles, director of the U of A's Office for Sustainability, says, "Students, faculty and staff on their daily commutes have the opportunity to have some fun and folly on the way, and that creates an exciting and unique experience that only the University of Arkansas is able to offer."
Campus Connections
To ease parking and traffic on campus, the university understandably wants to give students, faculty and staff more reasons to leave their cars at home.
"It's all part of the U of A's vision to create one of the most bicycle friendly campuses in the country and in keeping with a broader community effort to develop a connected network of trails in Northwest Arkansas," Boles says.
The concept of the Fayetteville Traverse originated with identifying pockets of nature throughout campus and the city. Those involved with the planning realized a loop could be constructed and subsequently partnered with the non-profit Trailblazers and Progressive Trail Design, a local trail building company, to design and build what is known as the Fayetteville Traverse.
The loop is part of a gift to the U of A and the City of Fayetteville from Tom Walton and Steuart Walton and better connects the community to the Northwest Arkansas OZ Trails.
The current iteration of the trail is mostly a mountain biking trail – about 80% natural service trail and 20% paved – that is suitable for riders of all experience levels.
"The entire trail loop is designed as a beginner-level mountain bike trail, with the easiest and most premium sections of trail residing within the campus core," Boles says. He likens it to a string of pearls, connecting the University of Arkansas with off-campus trails and locations including Markham Hill, Centennial Park, Mount Kessler, the Arkansas Research and Technology Park and the Tsa La Gi Bike Park.
Tsa La Gi, the word for "Cherokee" in the Cherokee language, opened in 2022. Its location behind the University Recreation Tennis Center roughly follows one of the routes of the historic Trail of Tears. Jeremy Battjes, vice chancellor for student affairs, was director of University Recreation, or UREC, at the time of its development and said the goal of the project was to take the natural landscape behind the tennis center and weave trails throughout the hillside.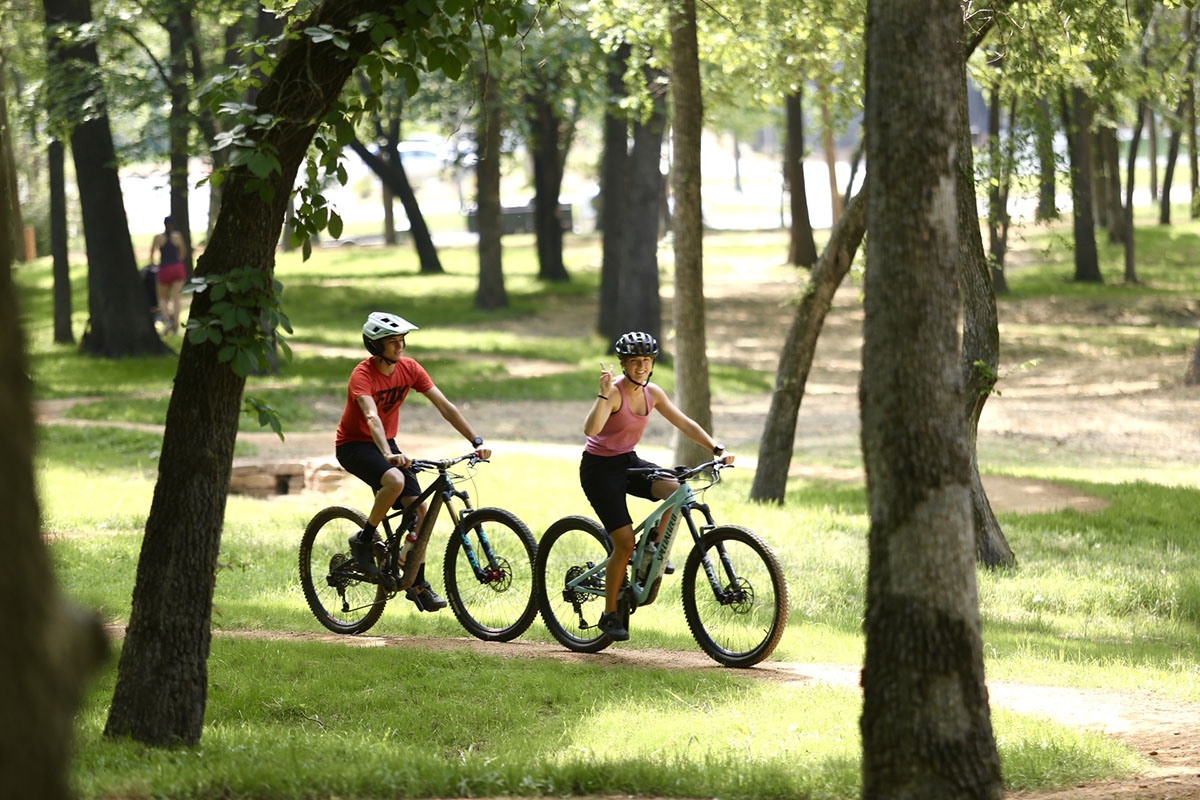 Meara says, "I've talked to people at the Tsa La Gi Bike Park who are freshmen, and this is their deciding factor to come here."
The trail system, in general, is also a draw.
"There's definitely a lot of interest around the country with what we've been doing," she says. "And I also know other students who have come to Arkansas for college, specifically for mountain biking."
---
UREC Outdoors has a full-service bicycle shop and mountain bikes for rent for all students, faculty and staff.
---
Boles agrees. "We're really excited to have something like this on campus because we think it is a unique value proposition to recruit the very best talent – students, faculty and staff – to the University of Arkansas."
One with Nature
In addition to the convenience, there's something to be said about the chance to be surrounded by nature – especially on a campus of more than 30,000 students.
Battjes says the trails offer the opportunity for physical wellness – getting out and about, experiencing the fresh air, seeing the trees and landscape of campus – and connects users to the natural beauty of their surroundings in a new way.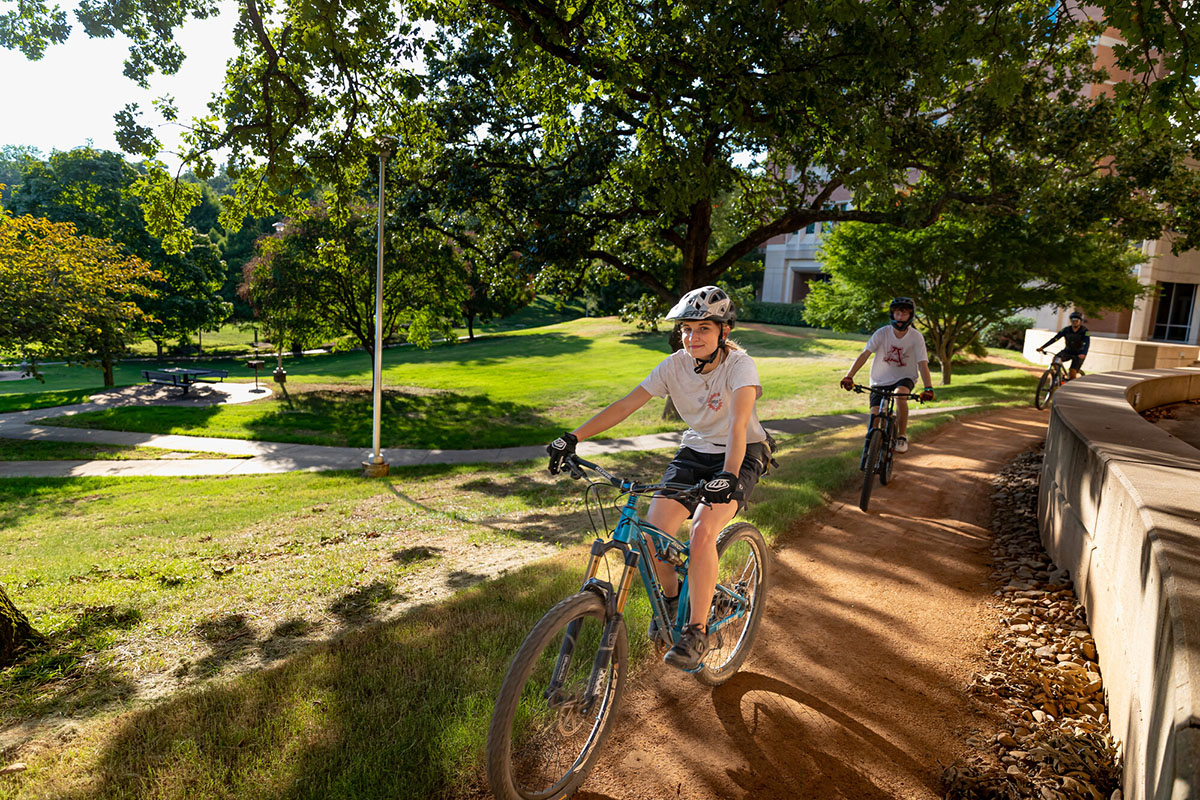 "We know mountain biking is important to students – not only in pursuits of their physical activity, recreation and wellness opportunities, but in the programming opportunities that are completely unique," he says. "At most other institutions, you'd have to travel hours to access such trail systems, but we literally have them on our campus ready to meet students' needs."
Meara, an environmental science major who is minoring in soil science, says, "I think being in nature and around trees, rivers, streams and natural features is beneficial for students' mental health. So, having access to these spaces and commuting to campus is good for activity levels, mental health and just getting outside."
---
After graduation, Meara would love to pursue a master's degree – if not a doctorate – in environmental science, ecology or a similar field. Regardless, she'll continue to be a steward of the environment, whether through conservation or research.
---
Global Appeal
Boles points out that, throughout Northwest Arkansas, there's been a significant cultural shift towards more outdoor recreation in general, and mountain biking has been a big part of that.
"The U of A is excited to be a part of that larger movement and that shift includes people from all over the world," he says. "They're coming to ride bikes in Northwest Arkansas right now, and with this trail, those people coming from all over the nation and the world are going to go right through the core of our campus and see what the University of Arkansas has to offer."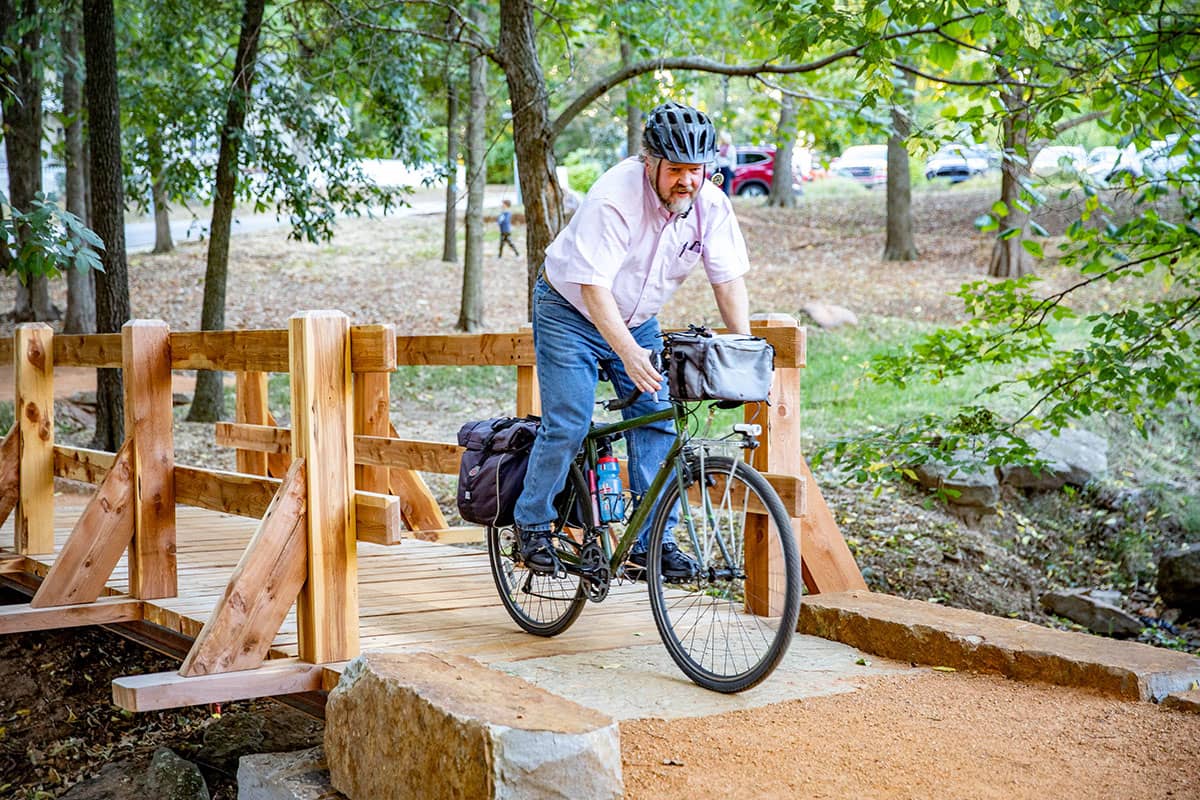 There's also a natural overlap between cycling and the economic development of Northwest Arkansas. The Center for Business and Economic Research at the Sam M. Walton College of Business found that the bicycling industry generated $159 million in total economic impacts from cycling-related jobs, tourism revenue and taxes in Northwest Arkansas in 2022.
"We have many research studies to show us that it's bringing a lot of economic drivers to our region each year," Boles says.
One example is Centennial Park, which hosted the World Cyclocross Championships in 2022. The event had only been hosted one time previously in the United States and brought riders from around the world to Northwest Arkansas.
"This trail connects us with amenities like that," Boles says. "You can't go ride a trail in Northwest Arkansas right now without running into people from a different state or likely a different country. There are people coming from all over the world to explore the trails and the scenic beauty of Northwest Arkansas, and the University of Arkansas is excited to be a part of that."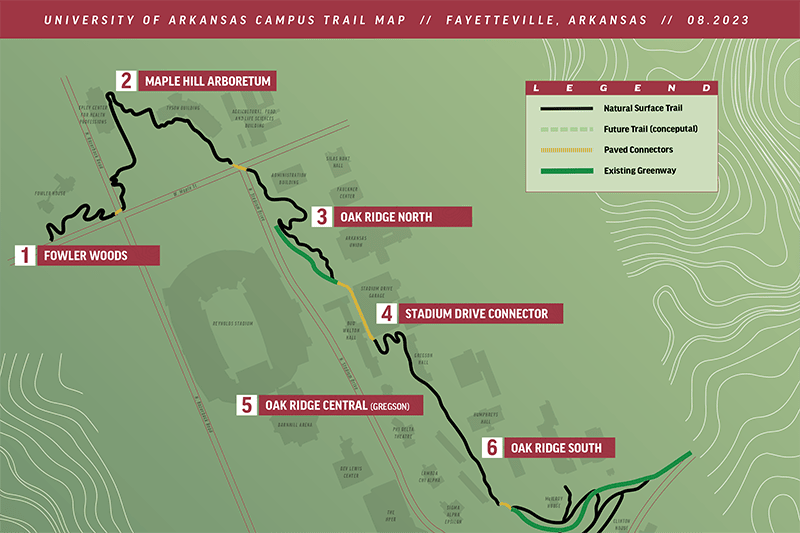 Users of the trails can expect various picturesque spots along the route:
Bird's eye views of the Reynolds Razorback Stadium
Native stone plazas and cedar bridges
The site of the 2022 Walmart UCI Cyclo-Cross World Championship
Historic homesteads and farms
A Trail of Tears memorial
Woodland, savanna, prairie and glade ecosystems
Learn more about the Fayetteville Traverse in the Short Takes episode, "Trail Blazers."