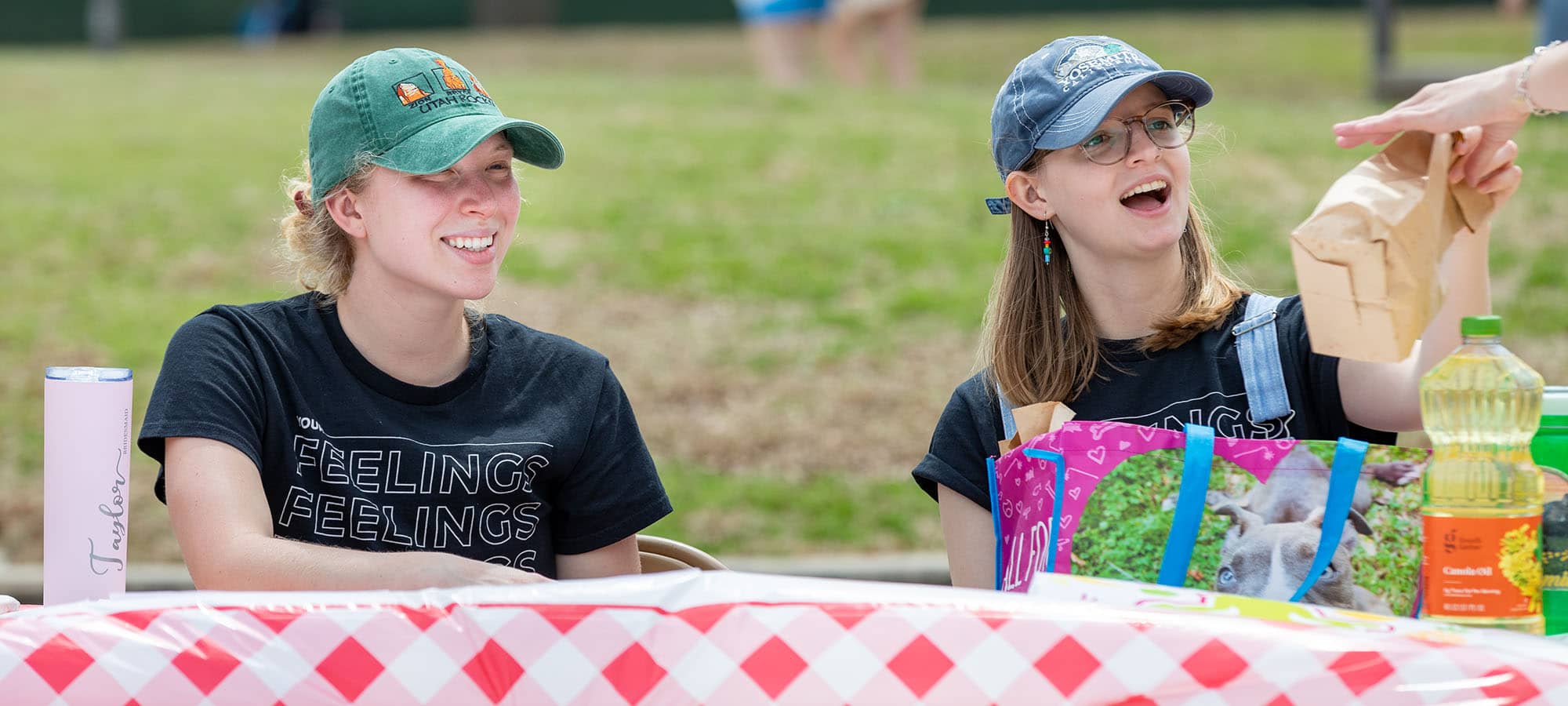 Determined to Help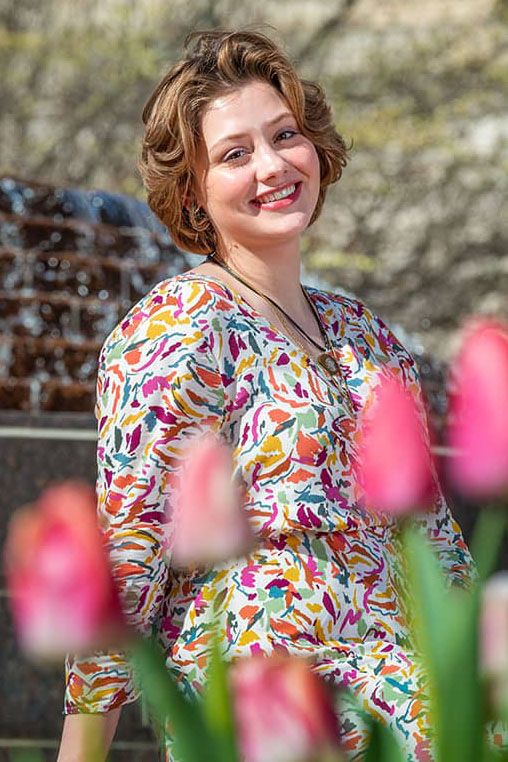 University of Arkansas student Jenna Klewsaat has faced numerous challenges in her young life, but she keeps pushing toward her goal: seeing her name on Senior Walk. The Colorado native is open about her mental health struggles – struggles that many college students face – and how those have impacted her journey to graduation.
"I've learned that once you graduate high school, there's no time limit as to what you can do," she says. "And I've learned that I am where I'm supposed to be right now. I have lived, even if I don't have a degree to show for it…yet."
Since coming to the university, Klewsaat has learned how to ask for help and how to take advantage of the resources offered on the Hill. She's found friends, creative inspiration and – in many ways – a new home. At the U of A, she is surrounded by people who are determined to help her and her fellow students, especially when challenges arise.
Highs and Lows
Mental health isn't always a comfortable topic. It's personal, and those who are experiencing difficulties can feel especially vulnerable. Klewsaat, though, realizes that people learn from shared experiences and is candid about how her own challenges have shaped her life.
"I don't want to be defined by this," she says. "But I do want to help people."
Klewsaat graduated from high school in 2018 and moved to Los Angeles to pursue a career in modeling and acting. It was her first time living alone and – without support close by – her new experiences began to take a toll on her mental health.
"There were extreme highs and extreme lows," she says.
In July 2020, Klewsaat toured the U of A, and with encouragement from her parents, she enrolled for the fall 2020 semester. Life continued to throw her curve balls – the COVID-19 pandemic being one of them – which added to the struggles she had already faced with bipolar disorder, depression, anxiety and an eating disorder. After her first semester, she withdrew. The fall 2021 and spring 2022 semesters were a repeat of the year before – enrollment in the fall and withdrawal in the spring due to mental health challenges.
However, in fall 2022, Klewsaat came back to the U of A with a new sense of determination. She took a full course load and earned all A's. What's more, she returned for the spring 2023 semester for the first time since enrolling at the university.
"On that first day of the spring semester, I was like, 'I'm here! I made it!'" she says. "I'm determined not to take any more breaks or stop anymore."
Beacon of Hope
"Beacon of hope in the ways dreary lighted" may be a line from the university's alma mater, but it also rings true for Klewsaat's journey. Each fall, she was welcomed back, but it wasn't until fall 2022 when Klewsaat really began to take advantage of some of the resources that were offered.
"I learned to ask for help after my previous semesters," she says. "I started going to social events hosted by the university and getting involved. It has really become a home for me. I never realized how many resources you have."
Klewsaat is majoring in psychology with a minor in English and says her most interesting classes are the ones she can apply directly to her life. She also loves writing psychological thrillers in her free time and would love to be a writer, so she can write meaningful stories that will help others in their lives.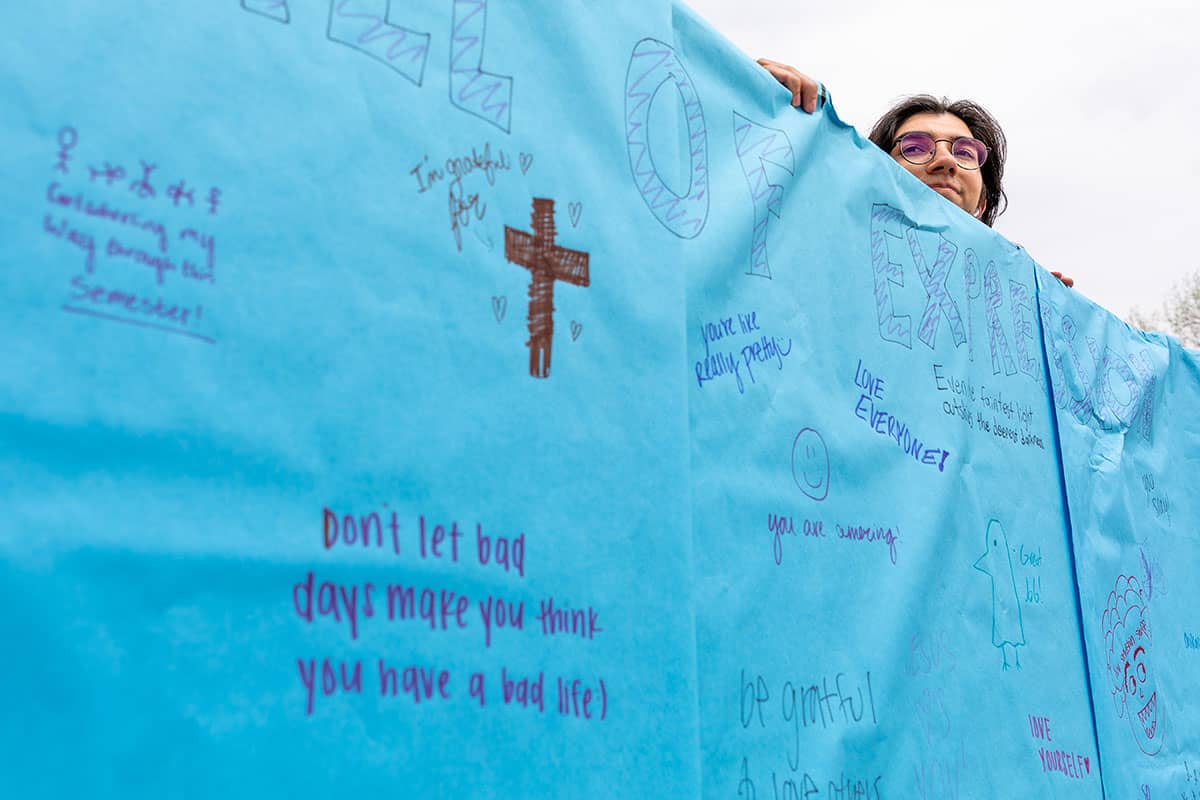 "I hope to help people who are where I used to be and give them comfort and hope through my projects and creative writing skills I am learning at the U of A," she says.
Thinking Caps
Klewsaat is not alone in her struggles. In fact, many students experience stress or anxiety as a part of their college experience. According to a 2022 survey coordinated by the American College Health Association, more than 75% of the 54,000 undergraduate students surveyed indicated that they experienced moderate to serious psychological distress. While we all experience anxiety and distress at some point in our lives, these feelings can affect our mental health and wellbeing. In addition, some experience more serious symptoms and impairments that come with mental health diagnoses.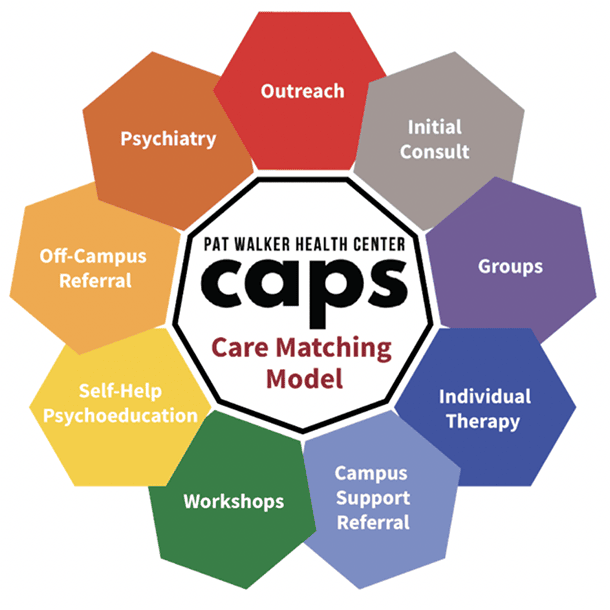 "I really think the biggest hurdle that college students today have to overcome is just simply themselves and their mental health," Klewsaat says. "I feel like a lot of people struggle with that, but there's such a stigma around 'Don't say anything about it – just keep going and keep it quiet.'"
Danette Horne, associate director at the Pat Walker Health Center's Counseling and Psychological Services (CAPS), wants more students to realize that she and her fellow staff members are on campus to help with all their mental healthcare needs.
CAPS programs and services are designed to meet the academic, developmental, remedial and preventative needs of the university community, with options tailored to students using a diversity of resources offered by the counseling center, campus partners and community providers.
"If a student is experiencing difficulties related to their mental health, call or come by CAPS to talk about initiating services," Horne says. "Some students fear that they're presenting concerns are either 'too big' or 'too small' for CAPS. While CAPS may not be the resource recommended for ongoing services, we are a great place to start, and no concerns are too big or too small because everyone's mental health matters."
One helpful training Horne recommends for students, faculty and staff is QPR, which stands for "Question, Persuade and Refer." Horne says it's particularly helpful to potentially save a life from suicide.
"Suicide is everybody's business," she says. "Look out for one another."
Just as medical professionals have to learn CPR, Horne says it's best for everyone to know the warning signs of someone in danger, so we can be equipped to help.
"People trained in QPR learn how to recognize the warning signs of a suicide crisis and how to get a person at risk the help they need, just like someone who is trained in CPR can help someone in need and get them to professional care," Horne says. "You might be surprised and may find it useful at some point in your life with someone you know and care about."
---
Online QPR training can be accessed by visiting http://www.qprtraining.com/setup.php and entering the code UARK.
---
Help Your Self
Taylor Pike, a U of A graduate student, spent a year as an ambassador of CAPS and says anyone who is dealing with any circumstance can benefit by visiting with a mental health professional.
"It doesn't have to be a long-term commitment," she says. "There are multiple reasons someone might reach out to CAPS – not just when there's a crisis. They offer help for first generation students, students dealing with anxiety and stress and even have group sessions in addition to individual sessions."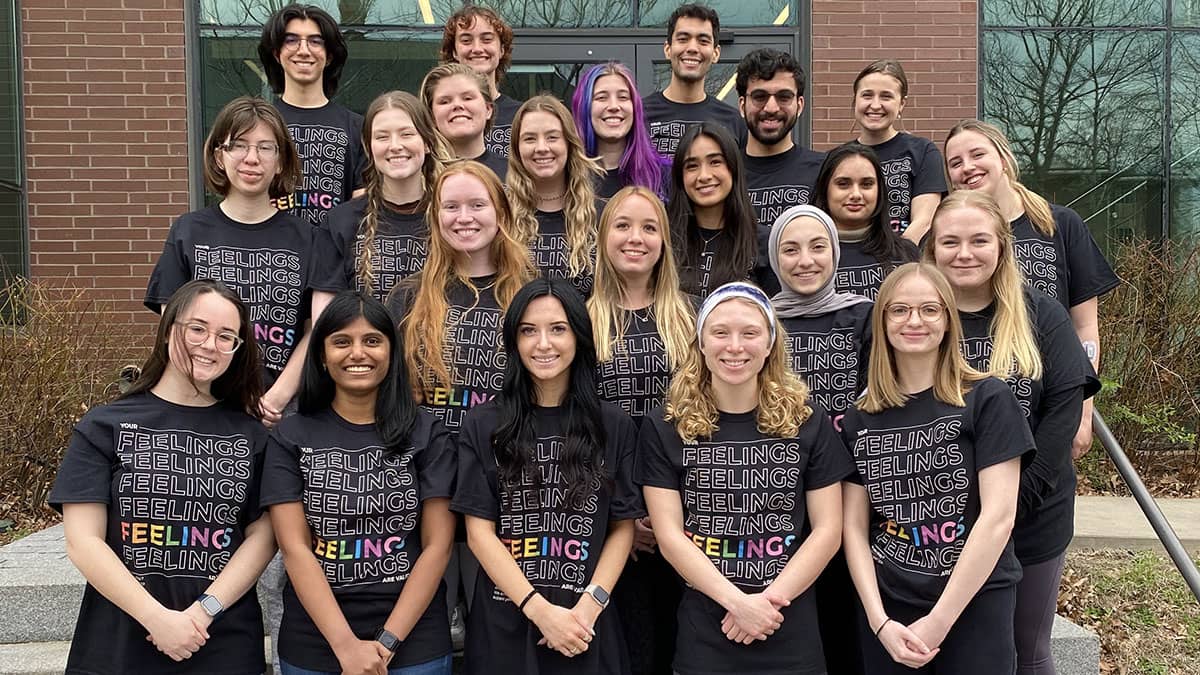 One of the best kept secrets might be the Lane Marrs Relaxation Room, located in the Pat Walker Health Center. This walk-in space is secluded and offers calming music, massage chairs and even guided meditations for students who just need a break.
And for students who want a little self-help in the form of online resources, CAPS offers an online library for everything from anxiety to trauma.
"For most students, I don't think it's super obvious about what they should do when they're struggling," Pike says. "But if you are, the first thing to do is call and say you want to meet with someone to talk."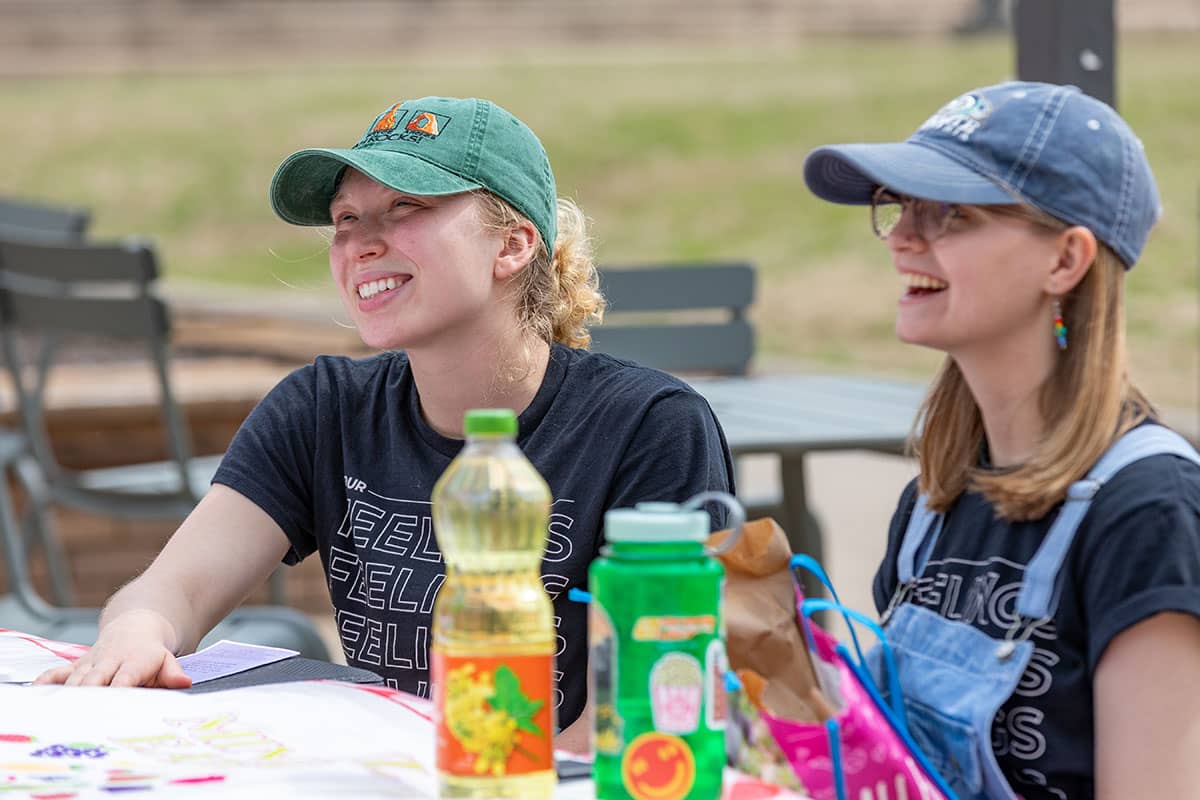 Klewsaat says, "The number one thing I hear from others who are struggling is, 'I didn't want to be a burden.' But staying quiet isn't helping anybody. That's not helping you. And you're not alone – those thoughts and feelings are shared by other people who are feeling the exact same way."
If a student is hesitant to reach out to CAPS, Horne suggests approaching a supportive friend, family member or even a U of A faculty or staff member instead. Concerns can be conveyed, and help can be provided or referred.
"College is very daunting," Klewsaat reminds us. "I don't care who you are or what kind of personality you have, it's very intimidating. But if you have the right people by your side, it's possible to be successful and overcome any obstacle that you have."